Motorcycle Accident Attorney in Boca Raton, Florida
Motorcycle accidents can be very different from standard car accidents, especially in Florida, which is one of the most popular destinations for motorcycle enthusiasts. The year-round weather, beautiful highways, and scenic views lead Florida to have one of the highest numbers of motorcycles on the road. With an increase in the number of riders as well as very busy roadways, the number of motorcycle accidents also increases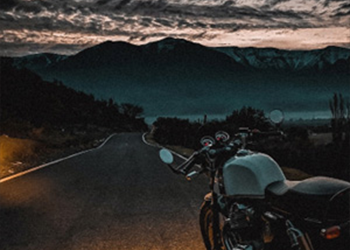 .
As a motorcycle rider, you need accurate information following an accident to better understand your rights. At Goldblatt Law PLLC, we are here to explain how to expertly navigate the claims process. We uniquely understand motorcycle accident claims and how you can get compensated for the motorcycle injuries you sustained. If you find yourself needing an experienced motorcycle accident attorney, call us today at 561-868-2000 or visit us online to schedule your free consultation.
Information Center
How Motorcycle Accidents Are Different From Other Crashes

What To Do After Boca Raton Motorcycle Accidents

What Will My Attorney Do?

What Types Of Damages Are Available?

How To Prevent A Motorcycle Accident

Motorcycle Accident Attorneys In Florida Can HelpHow Motorcycle Accidents Are Different From Other Crashes
Any major accident can turn your life from normal into a nightmare in an instant. But motorcycle accidents are especially hazardous. As multiple studies have shown, riding a motorcycle is riskier than riding in a car. In fact, bikers face an injury rate that is roughly three times higher than the rate for car passengers.
And safety hasn't improved much for those of us who ride on two wheels. By contrast, the injury rate for car crashes continues to decline. Security features such as three-point seat belts, new airbag locations, electronic stability control, blind spot detection, and driver assistance have made automobiles much safer over the past 30 years. In the same time frame, motorcycle safety has remained mostly the same.
However, there has been one addition to many vehicles that has proved to be more dangerous for motorcycle riders. This is the addition of in-car entertainment systems and the use of smartphones while driving. As distracted driving has increased, so have motorcycle accidents. Motorcycles are harder to see on the road when drivers are distracted, and automobile drivers are not always double checking for motorcycles.
Another major difference between an auto accident and motorcycle crash is that motorcyclists cannot purchase personal injury protection (PIP) insurance. Under Florida law, PIP coverage is required for all vehicles, which extends up to $10,000 in compensation for medical expenses, medical bills, and lost wages no matter which party is at fault. Since motorcyclists cannot purchase PIP, they must rely more heavily on their health insurance plans to pick up the slack. Unfortunately, health insurance plans will never cover lost wages or other damages—leaving motorcyclists with huge expenses following a crash. Consequently, motorcyclists absolutely must hire an experienced attorney who can help them step outside of the no-fault system and obtain compensation for their injuries.
Due to the increase in the number of crashes and the increased injury rate, motorcycle insurers like to take advantage of the higher-stakes civil claims. Insurers are always looking to save money. Denying claims or putting pressure to quickly accept an offer are but two ways they can pad their bottom line.
As experienced accident attorneys, we are ready to fight the insurance company on your behalf to make sure you receive the maximum amount of compensation. We have experience with motorcycle insurance companies, and we won't let them strong-arm you into accepting a settlement that is far too low.
What To Do After Boca Raton Motorcycle Accidents
If you have been in a motorcycle accident, everything feels like a blur. What are you supposed to do next, and how do you make sure you and your passenger are ok? The hours following an accident are critical for your case. The steps you take—or fail to take—can matter a great deal when it comes to negotiating a settlement.
First, ask if anyone at the scene needs an ambulance and call one if necessary. If you can't move, ask someone else to call an ambulance for you.
Next, after seeking medical care, if police or law enforcement has not already been contacted, be sure to contact them. When they arrive, they will document the scene and write a police report which can provide essential information to your attorney to be able to have proper evidence in the case.
Once law enforcement has been contacted, you will want to make your own documentation of the scene if at all possible. Take pictures and videos of the scene. Record the names and contact information of the parties involved in the accident, as well as any witnesses that may have seen the accident happen. Furthermore, once you have a chance to calm your nerves, take a moment to write down what you remember happening.
Remember to seek medical attention as soon as possible. This is essential even if you think your accident was minor and you only have a few scrapes and bumps. By catching any underlying injuries, you will make sure you receive proper medical treatment. Internal problems can present themselves as lesser symptoms initially; catching them as soon as possible may even save your life.
Another reason to seek medical care as soon as possible is to link your accident to your injuries. Without this link, your case is harder to prove. By having a doctor establish that your injuries came from your accident, we can show the insurance company your injuries weren't pre-existing.
Finally, once you have been treated by medical professionals and have taken care of the accident scene, contact a motorcycle accident attorney. It is important to contact an attorney before talking to any insurance company. Any misstatement you make, no matter how minor, could come back and undercut the legal basis for your claim. Similarly, you might reduce the amount of compensation you can receive—all because you slipped up and said something you shouldn't. An attorney can help you avoid making these misstatements.
What Will My Attorney Do?
Once you come into our office and meet with your attorney, they will start to gather evidence in your case and handle all communications with the insurance companies. As an advocate on your behalf, your attorney will talk to the insurance companies and make sure you do not admit any amount of fault.
While your attorney is dealing with the insurance companies and fielding all of their inquiries, your attorney will also work on gathering evidence to help determine liability for the accident. Liability is who is legally responsible for causing the accident. This person will be responsible for paying damages to anyone injured.
If the insurance company offers settlements throughout the process, your attorney will consult with you about the settlements and advise you if they feel they are a good amount for you to accept or if we should continue the case and go to trial to obtain a higher amount of damages. Ultimately, the choice to settle is up to you. But your attorney will provide you with expert guidance on how much your case is worth.
Your attorney will also negotiate with the insurance company to see if they can get a higher settlement for your injuries. This process may even become a formal process with mediation. In mediation, a neutral third-party talks between the parties and tries to come up with a solution favorable for both.
Finally, if you decide not to settle and go to court, your attorney will be able to file the proper paperwork as well as represent you in court. Your case will either go before a judge or a judge and a jury. The judge or the jury will decide who is responsible for creating the accident and how much damages the at-fault party will be responsible for paying to injured victims.
What Types Of Damages Are Available?
Damages are monetary compensation for the injury you have suffered. Damages compensate for many losses, some of which are financial. Your attorney will likely seek a combination of different types of damages to make you whole again. Depending on your injuries and your lifestyle, you may be able to recover any of the following damages:
Medical expenses

Lost wages

Loss of future earnings

Long-term medical expenses

Pain and suffering
If the motorcycle accident led to the death of your loved one, you might be able to bring a wrongful death claim and recover compensation for:
Loss of financial support

Loss of companionship

Funeral expenses

Value of household services provided
How To Prevent A Motorcycle Accident
Although motorcyclists have no control over other motorists on the road, there are a few ways to make sure you remain safe while riding your motorcycle in Florida. Easy ways to prevent motorcycle accidents include:
Avoid swerving between cars while traffic is slowed. Remain in your lane and wait for traffic to start moving again.

Avoid riding at high speeds in congested areas.

Keep your attention on the road ahead. It is even more important in construction zones or if an accident has taken place nearby.

Watch for road debris that could wreak havoc on your bike or cause you to lose control.

Never use your cellphone while riding.

Check your bike for mechanical issues and ensure the routine maintenance has been completed prior to riding.

Never drink and drive or drive under the influence of drugs. If you are intoxicated at the time of the accident, you might be prevented from receiving any compensation.

Use extra reflective gear on both yourself and your bike. Ensure all your lights are working.

Consider wearing a brightly colored helmet or jacket that will make you stand out from the rest of traffic.
By taking extra steps, you might prevent an accident and even save your life. Because of their small size, motorcycles endanger the lives of their riders in even the best situations. Both parties involved in accidents can help prevent them.
Motorcycle Accident Attorneys In Florida Can Help
An experienced Boca Raton motorcycle accident lawyer can help you recover compensation for your motorcycle accident injuries caused by someone else. We are ready to assist you in obtaining justified compensation for your injuries. We have already helped countless others in Florida make their lives whole again after an accident. Why shouldn't you be next?
At Goldblatt Law PLLC, we have the specialized knowledge to handle any motorcycle accident claim. Our law firm has worked with insurance companies before, and we are ready to stand up to them on your behalf. Call us today at 561-868-2000 or visit us online to schedule your free consultation.