Pedestrian Accident Attorney in Boca Raton, Florida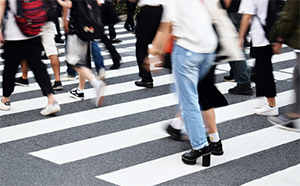 If someone injured you while you were on foot, get in touch with Goldblatt Law by calling (561) 868-2000 or contacting us online. We will carefully review your situation, clarify your legal options, and work tirelessly to ensure you are compensated.
Information Center
What Are Typical Pedestrian Accidents In Florida?

What Causes Pedestrian Accidents?

What Are Common Pedestrian Accident Injuries?

Can You Use Personal Injury Protection (PIP) Benefits For A Pedestrian Accident?

What If I Don't Have A PIP Policy?

How Many Pedestrians Are Hurt In Florida Each Year?

Can I Still Sue If No One Hit Me?

How Much Compensation Can I Receive For A Florida Pedestrian Accident?

When Must Drivers Yield To Pedestrians?

What Duties Do Pedestrians Have?

Can I Receive Compensation If I Am Partly At Fault?

How Can A Florida Pedestrian Accident Lawyer Help?

What If My Case Doesn't Settle?

What Are The First Steps I Should Take Following A Crash?

What If The Driver Who Hit Me Didn't Stop?

How Long Will I Have To Wait To Obtain Compensation?

How Can You Reduce The Risk Of A Pedestrian Accident?

Contact An Experienced Florida Pedestrian Accident Attorney
What Are Typical Pedestrian Accidents in Florida?
Florida is one of the most dangerous states for pedestrians. Smart Growth America has ranked Florida as the second worst in the nation for pedestrian safety. Seven of Florida's cities ranked in the top 20 of the country, with Daytona Beach and Tampa among the worst. Only New Mexico ranked worst among the 50 states.
Each accident is unique, but we do see some common accidents for pedestrians:
Intersection accidents. A driver might make a right-hand turn at a red light without checking that the way is clear. In other situations, drivers miss time the lights and end up entering an intersection on a red light.

Dart-out accidents. Pedestrians can dart out into the intersection or road, hoping to cross before the lights change. Pedestrians often bear some fault for these collisions.

Backing-up collisions. A driver could strike a pedestrian when backing up their vehicle, especially out of driveways or parking lots. Although drivers are supposed to look carefully, other cars could block their view.

Illegal passing collisions. A vehicle might stop for a pedestrian, but the car behind pulls out to pass because they are in a hurry. Consequently, they collide with the pedestrian.
These are common accidents. But pedestrians can be hit anywhere in Florida.
What Causes Pedestrian Accidents?
In many situations, a negligent driver is to blame for the crash. Some common examples of negligence include:
Distracted driving

Cell phone use

Eating
Failure to yield

Speeding

Drunk driving

Aggressive driving

Failure to take caution
If a motorist fails to use reasonable care while driving or otherwise fails to obey traffic laws, they are negligent. We can hold them legally accountable for your accident injuries by seeking a settlement or filing a pedestrian accident claim.
What Are Common Pedestrian Accident Injuries?
Pedestrians can suffer devastating injuries in a direct blow. Others will suffer injuries when they skitter along the road or land on a car or fire hydrant. Some of the more common injuries include:
Lacerations

Abrasions (including "road rash")

Traumatic brain injuries

Head injuries

Burns
Spinal column injuries

Herniated discs

Death
Injuries can leave pedestrians in serious pain and prevent them from going to work. Pedestrians might also develop complications, like infection or nerve damage.
Can You Use Personal Injury Protection (PIP) Benefits for a Pedestrian Accident?
Yes. PIP benefits apply to pedestrians who are struck by motor vehicles, so you should be able to tap benefits to pay for medical care and replace lost wages. If you have a car, then chances are you have PIP coverage.
What If I Don't Have a PIP Policy?
You might still be covered by a family member you live with if they have a car. This could be your parent, spouse, or sibling. However, you wouldn't be covered by a boyfriend or girlfriend's policy. Ask your family if they have PIP insurance.
How Many Pedestrians Are Hurt in Florida Each Year?
The Florida Department of Highway Safety and Motor Vehicles collects accident data for the state. In 2021, Florida saw 9,554 pedestrian crashes in total, which resulted in 845 fatalities. There were an additional 7,320 pedestrian injuries from that year alone.
The numbers have climbed from previous years. In 2020, for example, there were 8,117 pedestrian crashes resulting in 715 fatalities and 6304 injuries. The state's attempt to address pedestrian safety does not seem to be working.
Can I Still Sue if No One Hit Me?
Possibly. For example, a motorist might have driven so close to you that they forced you from the road. If you fell down a ditch and injured yourself, you might be able to sue the driver. Consult an experienced Florida pedestrian accident lawyer to review your legal options.
How Much Compensation Can I Receive for a Florida Pedestrian Accident?
The amount depends on the facts of your case. Generally, our clients can receive compensation for economic and non-economic losses.
Economic Losses to Pedestrian Accident Victims
An economic loss hits the pocketbook. You can normally measure the value of the loss in dollars and cents. The most common economic losses after pedestrian collisions include:
Medical Care
Our clients often need expensive medical treatment to give them a chance at recovery. Medical bills are usually big and include:
Transportation

Surgery

Emergency room care

Doctor visits

Diagnostic tests, including imaging tests
Blood or lab work

Rehabilitation

Physical therapy

Psychological counseling

Medication
Future Medical Care
Some pedestrian injuries are permanent disabilities. You might need continuing care for decades, possibly for the remainder of your life. Some examples include future surgery or ongoing at-home assistance.
Lost Income
Many injuries prevent a pedestrian from returning to work. They are either in too much pain, or physical limitations make work impossible. An injured pedestrian can also seek loss of future earning capacity if a disability prevents them from ever going back to their old job.
Property damage
You might have damaged your glasses, phone, or pet in the accident. You should seek compensation for these losses.
Non-Economic Losses
These losses are harder to measure in monetary terms. But you can receive compensation for:
Physical Pain and Suffering
Broken bones, cuts, burns, and head injuries all cause pain. Even someone taking pain medication can feel intense pain or a dull discomfort which makes sleep difficult. Although money might seem like a poor substitute for living pain-free, it's all we can get in a settlement.
Emotional Anguish or Suffering
Many victims slump into depression or suffer anxiety, irritability, embarrassment, or anger. This emotional anguish deserves compensation. Other victims suffer post-traumatic stress disorder from reliving the accident in their minds.
Disfigurement
Some injuries leave lasting scars. A burn on a visible part of the body causes intense distress. Disfigurement damages make up for this suffering.
When Must Drivers Yield to Pedestrians?
Under Florida's rules of the road, a motorist must yield when:
Pedestrians are in a marked crosswalk.

Pedestrians are in an unmarked crosswalk at an intersection with a stop sign.

Children are near a crosswalk in a school zone.

Pedestrians have a walk signal.
Pedestrians use the sidewalk to cross a driveway or alley.
These are sensible rules which all drivers should know when they get a license. Confusion, negligence, and aggressive driving nevertheless lead motorists to break one or more of these rules.
What Duties Do Pedestrians Have?
Pedestrians can't just do whatever they want. Instead, they have legal duties to:
Obey traffic control devices. This means not flinging yourself into the crosswalk when the sign tells you not to cross.

Walk on the right-hand side of a crosswalk. This helps maintain the orderly flow of foot traffic across an intersection.

Use a sidewalk when one is available. If not, you should walk on the shoulder facing traffic.

Never stand in the roadway. That would only increase the odds of a crash.
If you fail to follow one of these rules, you might possibly be partially at fault for the collision and receive less compensation.
Can I Receive Compensation if I Am Partly at Fault?
Yes. Florida's comparative fault law allows victims to seek compensation even if their own negligence contributes to an accident. For example, you might have:
Jaywalked

Failed to check both ways
Been distracted by a cell phone

Walked on the road

Wore headphones that prevented you from hearing approaching traffic
If you were negligent, your compensation gets reduced by your degree of fault. Imagine you are 50% to blame. If your injuries are valued at $100,000, you would only get half that. If you were 20% at fault, you would receive only $80,000. In a settlement, we can negotiate an agreement about your percentage of fault. But if we go to trial, a jury will likely determine your share of responsibility.
How Can a Florida Pedestrian Accident Lawyer Help?
An experienced attorney proves their value by helping to build a case from scratch against a negligent or reckless driver. When we agree to represent you, we immediately get to work:
Investigating the collision to better understand what happened

Collecting evidence of the crash

Analyzing police reports
Interviewing witnesses who observed the accident

Coordinating with medical providers to ensure you receive care

Contacting insurers to get bills paid

Filing an insurance claim and following up with insurers

Negotiating a settlement for your injuries
These are only some of the most important tasks we perform.
What If My Case Doesn't Settle?
We might have no choice but to file a lawsuit. Sometimes, each side disagrees about who is at fault for the crash. In other cases, we disagree on the severity or value of your injuries. When both sides remain far apart, a lawsuit is inevitable.
What Are the First Steps I Should Take Following a Crash?
We recommend that you do the following to improve your odds of receiving compensation:
Call the police to come to the accident scene. An officer will create a police report which contains helpful information.

Get important information from the driver who hit you—name, address, license information, license plate, registration, and insurance contacts.

Obtain prompt medical care. Go to the hospital even if you don't feel any pain. There might be injuries that are slowly developing.

Follow your doctor's treatment plan. This will show you are committed to getting well. Also, you can prevent the defendant from blaming you for your own injuries.
Avoid talking about your case with anyone, including insurance adjusters. You also shouldn't post anything on social media about your collision.
What if the Driver Who Hit Me Didn't Stop?
Sadly, this sometimes happens. Hit-and-run accidents injure countless pedestrians every year. Although some drivers might not know they clipped a pedestrian, other drivers simply don't care. They hit the gas pedal and flee.
Fortunately, you can still seek compensation for a hit and run. PIP and other insurance might be available. We can also provide the police with as much identifying information as possible to help them catch the criminal.
How Long Will I Have to Wait to Obtain Compensation?
It depends. Some cases settle in a matter of months. Others might take years. At Goldblatt Law, we do everything we can to get fair compensation in a timely manner. Some things that delay settlement include:
Disagreements about fault

Disputes over the severity of your injuries

An insurer's unwillingness to offer fair compensation

A victim's lack of an attorney
The best way to improve your odds of receiving a timely settlement is to contact a Florida pedestrian accident attorney. At our firm, we can immediately begin building a case for compensation. We can also negotiate effectively with an insurer. The sad reality is that insurance companies salivate when they see a victim has no lawyer. They anticipate being able to lowball the victim or delay resolving a case.
How Can You Reduce the Risk of a Pedestrian Accident?
Pedestrians cannot 100% eliminate the risk of an accident. After all, so much is out of their control. They cannot control whether a driver stops at a light or checks that the way is clear. Still, there are some sensible steps that lower your odds of getting hit:
Use the sidewalk, if there is one.
If there is no sidewalk, walk on the shoulder against traffic. This means you can see a car coming and take defensive action.

Look both ways before crossing the street.

Don't enter the crosswalk if the sign is telling you not to cross.

Never jaywalk. Only cross at the intersection.

Make yourself visible at night. This might mean walking with a flashlight or putting reflective tape on your backpack or jacket.
Stay alert and listen to approaching cars. It's probably safer to avoid wearing headphones when you walk.

Put your phone away. It's easy to lose focus and step into a crosswalk without checking traffic.
Contact an Experienced Florida Pedestrian Accident Attorney
Being struck by a motor vehicle is a terrifying experience. Stepping outside to jog or walk to your school or job should not result in painful injuries. In addition to a long recovery, victims express many fears about their future. The cost of medical care means many victims will be bankrupt because they have no way to pay. There must be a way to get compensation.
Fortunately, there is. At Goldblatt Law, we have helped many pedestrian victims like you. To learn more, contact us online, or call (561) 868-2000. Our consultations are free.